Exhibition:
Hong Kong – Japan Connections: In the Air and On Campus
Date: March 24, 2015 to April 30, 2015
Venue: Ground Floor Gallery, Run Run Shaw Tower, HKU Centennial Campus
The University's Department of Japanese Studies is holding a unique exhibition on the way Japan Airlines promoted its first international services to San Francisco and Hong Kong. The exhibition, entitled "Hong Kong – Japan Connections: In the Air and On Campus", will run until April 30, 2015, in the Ground Floor Gallery of Run Run Shaw Tower, HKU.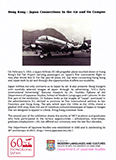 The exhibition was put together by Dr. Yoshiko Nakano of the Department of Japanese Studies, School of Modern Languages and Cultures. It features Japan Airlines ads from the 1950s to the 1970s which Dr Nakano has collected as part of her research into how Japan represented itself overseas after World War II.
The exhibition is supported by Japan Airlines, which recently celebrated the 60th anniversary of its first commercial flight to Hong Kong. The airline has a forty year association with the University of Hong Kong through its JAL Scholarship and Summer Internship programmes for students.
The Department of Japanese Studies was established in 1985 and is celebrating its 30th anniversary in 2015.