2017 Young Leaders Tour of Japan
Application Deadline: 9 December 2016
Focusing on the theme of Recovery and Renewal, the 2017 Young Leaders Tour of Japan will provide TEN eligible undergraduate students from HKU with an exciting opportunity to visit sites in Miyagi Prefecture and Tokyo to learn how Mitsubishi Corporation is helping businesses recover six years after the 2011 Great East Japan Earthquake. As future leaders, students will be encouraged to think about global problems such as recovering from natural disasters, reconstruction, and corporate social responsibility initiatives in society.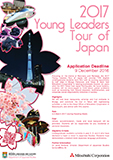 Date
5-9 March 2017 (during Reading Week)

Highlights
We will visit local restaurants, wineries and fruit orchards in Miyagi, and conclude the tour in Tokyo with sightseeing activities, a visit to the Head Office of Mitsubishi Corporation in Marunouchi, and dinner with HKU alumni.
Cost
Airfare, accommodation, meals, and local transport will be provided. Students will be responsible for any incidental or personal expenses.

Requirements
Students will be required to take photos throughout the tour, which capture the theme of post-disaster recovery and renewal. These photos will be used for a photo exhibition at HKU in April 2017 as part of Japan Month. Students will also be required to submit a two-page reflective report documenting their experiences in Japan.

Eligibility Criteria
Undergraduate students currently in year 2, 3, and 4 at the University of Hong Kong, who have declared a major or minor in Japanese Studies are eligible to apply. Students are expected to demonstrate a medium-level Japanese language proficiency.
Application form: Closed
Further information
Contact Dr Janet Borland, Director, Department of Japanese Studies borland@hku.hk