SMLC Seminar:
Japan's apologies: Can they find the "right" words?
Dr. Helena Meyer-Knapp
17 Apr 2019 (Wed) 4:30-6:00
Room 4.36, Run Run Shaw Tower, Centennial Campus, HKU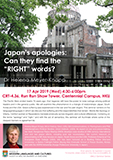 The Pacific Wars ended nearly 75 years ago; their legacies still have the power to raise outrage among political leaders and in the general public. We will examine this phenomenon in a triangle of relationships: Japan, South Korea and the USA. Grave suffering was experienced in the war and the pain lingers. This seminar centers on the language/languages in which we discuss that suffering and the responsibilities that remain. Words like Apology or Infamy, Comfort women or Reparations translate erratically across linguistic and cultural differences. Centering on the terms "apology" and "right," and with the aid of semantics, this seminar will illuminate where some of the deepest barriers to agreement lie.
Bio
Helena Meyer-Knapp, BA in History, Oxon. (UK), MA Communications, U. Pennsylvania and PhD Interdisciplinary Political Studies, Union Institute. (USA). An expert on war and peace-making, her book Dangerous Peace-Making (2003) develops case studies of 20th century international and civil war peace efforts, including post war reconciliation. Her current research on peacemaking in NE Asia focuses on Japan, South Korea and the USA. Professor Emerita at The Evergreen State College (USA), she has been honored as a Bunting Fellow (Harvard University), a Senior Fulbright Fellow (Kyung Hee Graduate School of Peace Studies, Korea) and with the HORN fellowship (Hyogo Prefectural University in Japan).