HKU-UTokyo Joint Summer Program
第五回 香港大—東大合同サマープログラム

August 1 to 13, 2018
This is a residential program in which HKU students will work on a group project with visiting students from the University of Tokyo (UTokyo). The first part of the program includes seminars and talks given by professors and business leaders, as well as field trips. The second part of the program requires students to work on group presentations on topics that are related to Japanese products and services in Hong Kong. A student group composed of members from HKU and UTokyo will identify interviewees, conduct interviews, and analyze issues from multicultural perspectives.

The HKU-UTokyo Joint Summer Program 2018 is supported by the Shun Hing College Endowment Fund.
Theme for 2018
Japan in Hong Kong: Challenges for the Future
1. Historical Perspectives of Hong Kong
2. Japanese Businesses in Hong Kong
3. Hong Kong in a Global Context

Instructors:
Prof. Shigeto Sonoda, University of Tokyo
Dr. Yoshiko Nakano, University of Hong Kong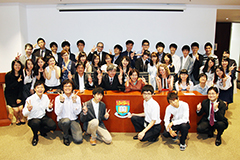 Accommodation:
Shun Hing College, HKU, Kennedy Town

Students:
14 HKU Students (undergrad and postgrad)
14 UTokyo Students (undergrad and postgrad)
The program is open to all full-time undergraduate and postgraduate students at HKU, and can be credit bearing or non-credit bearing.

1) Credit-bearing
JAPN3031 Japan in Hong Kong (6 credits)
This program is one of the capstone courses listed in the Japan Studies program. Upon completion of the group presentations, the students will write their reflective reports individually.

Assessment: 100 % coursework
(group presentation; individual essay)

Prerequisite: JAPN1011, JAPAN2099 (or equivalent) and the course instructor's approval

2) Non Credit-bearing
Requirement: Japanese Proficiency Test N2 or equivalent.
Information Session
Date: March 20, 2018 (Tue)
Time: 18:00-19:30
Venue: Main Building 201
Application Deadline
Date: March 27, 2018 (Tue)
Application forms may be obtained from the School of Modern Languages and Cultures Office.
Please submit your application to:
Ms Lucilla Cheng, Executive Officer
The School of Modern Languages and Cultures General Office
Room 5.01, Run Run Shaw Tower, Centennial Campus, HKU
For inquiries, please contact Ms. Lucilla Cheng at (email: luci@hku.hk).