2020 Young Leaders Tour of Japan

Application Deadline: 8 November 2019

Focusing on the theme of Recovery and Renewal, the 2020 Young Leaders Tour of Japan will provide TEN eligible undergraduate students from HKU with an exciting opportunity to visit sites in Tohoku and Tokyo to learn how Mitsubishi Corporation is helping businesses recover nine years after the 2011 Great East Japan Earthquake. As future leaders, students will be encouraged to think about global problems such as recovering from natural disasters, reconstruction, and corporate social responsibility initiatives in society. This field trip is offered as the credit-bearing course JAPN2096.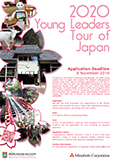 Highlights
We will visit local businesses and organisations in the Tohoku region, and conclude the tour in Tokyo with sightseeing activities, formal presentations, and dinner with HKU alumni.

Date
8-13 March 2020 (during Reading Week)

Cost
Airfare, accommodation, meals and local transport are provided. Students will be responsible for any incidental or personal expenses.

Eligibility Criteria
Undergraduate students currently in Year 2, 3 and 4 who have declared a major or minor in Japanese Studies. Students must demonstrate a medium-level Japanese language proficiency.

Further Information
Dr Janet Borland, Department of Japanese Studies borland@hku.hk
Contact: Dr. Janet Borland, Department of Japanese Studies, borland@hku.hk